HOW TO BECOME AN
ONLINE FILIPINO WORKER (OFW)
AND BUILD A SUSTAINABLE
CREATIVE CAREER
The 5-STEP mindset and methodology I have employed for the past 15 years, enabling me to collaborate with brands such as Nike, Jordan Brand, the NBA, and others.
JULY.15.2023 | SATURDAY 1 PM-6 PM
AT THE GROVE BY ROCKWELL, PASIG
(LIMITED TO 10 STUDENTS)
The NEW OFW Masterclass is an intensive workshop for DESIGNERS and other CREATIVES. 

It is a blueprint based on my 15 years of experience designing for global brands while working from home or wherever I am in the world. 
graphic designers
illustrators
art/creative directors
ux/ui designers
motion designers
video editors
animators
writers & copywriters
social media experts
project managers
marketing managers
and so much more!
How to get into the right mindset of dreaming big and setting goals!
How to find your unique selling point to attract the projects and clients you want.
How to find jobs and clients online using job sites and social media.
How to use multiple pricing techniques to build a sustainable freelance business.
How to fix your resume to beat Application Tracking Systems (ATS).
How to fix your portfolio to maximize your chances of finding the perfect job or gig.
How to reach out to clients or companies you want to work with without being spammy!
How to spot red flags and avoid toxic clients who take advantage.
BONUS: NEW SECTION ON AI TOOLS LIKE CHATGPT AND MIDJOURNEY!
WHAT PAST STUDENTS HAVE SAID: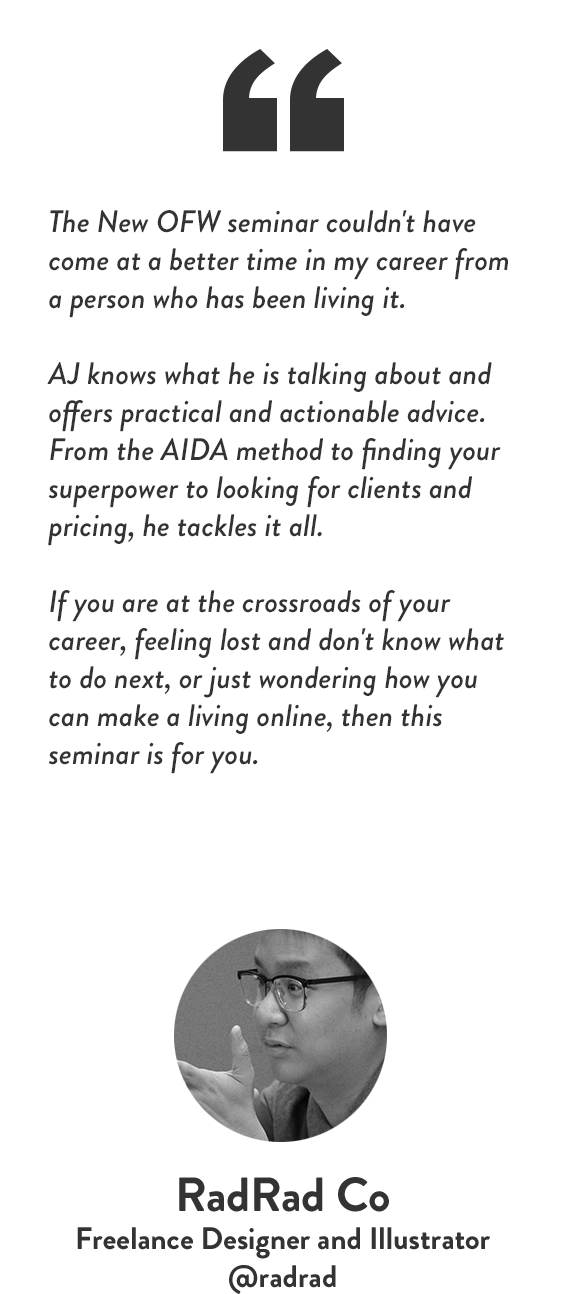 Over the last 20+ years, I have worked as a web designer at a startup, as an Art Director at the global advertising agency Ogilvy, and now run my own work-from-anywhere design practice. 
I have designed for my favorite brands like
Nike
,
Adidas
,
Jordan Brand
,
Adobe
, the
NBA
 to a multitude of independent companies.

All while working remotely from anywhere for the last 15 years.
Along with industry pioneers in 2017, I started the Communication Design Association of the Philippines to help uplift the value of design in the country. 

In partnership with educational institutions, private companies, and government agencies, I have spoken in front of thousands of people around the Philippines, giving free advice to young students and professionals over the last 20 years.
I formed a Facebook group called Filipinomads Creative Network to show Filipinos the opportunities for remote work. 

In 2019, I started the NEW OFW workshop to help Filipino creatives build their own online freelance career.

You can learn more about me and check my portfolio at https://ajdimarucot.com
​​​​​​​READY TO BECOME AN ONLINE FILIPINO WORKER? LIMITED TO 10 STUDENTS
(P7,999  for a limited time)
Thank you for joining our workshop.
TOTAL = P7,999
To finalize your slot, please send payments via one of the options below:
PayPal https://paypal.me/ajd23
GCash 0917 840 3938
BPI 0425 2616 81 Allen Jason Dimarucot Checking Account
Please email the proof of payment to hello@ajdimarucot.com or aj@newofw.com or text me at 0917 840 3938
Thank you and see you at the masterclass!
AJ